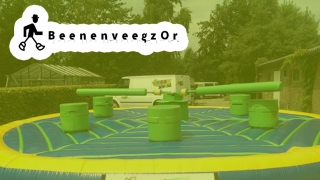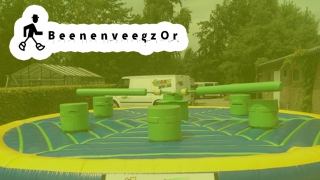 | | |
| --- | --- |
| Wanneer? | Wed 01 Aug 14:00 |
| Toernooiformaat? | Team vs Team |
| Waar? | Activiteitenveld |
This competition / activity does not require subscription. Gather at the specified location at the specified time!
Springen voor je leven, voordat je ten prooi valt aan de genadeloze en oneindige honger van het beest dat wij "De Beenenveegz0r" hebben genoemd. De Beenenveegz0r is de ultieme Battle Royale survival activiteit voor alle hoogspringers op CampZone. Let goed op de zwiepende zwaaibalk die verraderlijk snel op je af komt gedraaid en spring op het juiste moment om de wraak van het groene gedrocht voor even te ontwijken. Maar rust is ver te zoeken, want de Beenenveegz0r zal niet stoppen zolang er nog iemand veilig op een platform staat!
De Beenenveegz0r is een multiplayer activiteit voor jong en oud (zolang je een beetje weet hoe je moet springen) die zeker je hoogspringvermogen gaat testen. Met zes personen maximaal nemen jullie elk een plekje in op een platform die verspreid staan over het kussen. Wanneer de timer start begint de balk te draaien, en dan aan jullie om niet geraakt te worden en zo lang mogelijk te blijven staan. Val je van je platformpje af, dan ben je gelijk uitgeschakeld. De Last Person Standing wint de standoff en mag door naar de volgende ronde. Kom op woensdag allemaal gezellig mee doen en laat zien wie de koning van de Beenenveegz0r is!