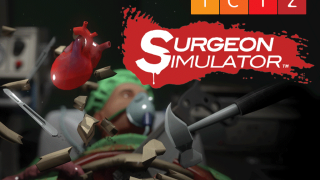 | | |
| --- | --- |
| Wanneer? | Fri 27 Jul 10:00 |
| Toernooiformaat? | 1v1 |
| Waar? | ICTZ Tent |
This competition / activity does not require subscription. Gather at the specified location at the specified time!
Gezocht: aspirant chirurg met een vaste hand, sterke maag, algemene kennis van het menselijk lichaam en voorliefde voor zware gereedschappen. Twee linkerhanden zijn vereist. Voldoe jij aan deze eisen? Laat zien dat jij virtuele levens kan redden door de hoogste score neer te zetten met de ICTZ Surgeon Simulator Challenge!
Probeer de patiënt koste wat het kost levend te houden door als een dolle z'n ribbenkast open te breken met een steenhamer en het hart terug te tapen aan de lever (zo hoort dat toch?). Zolang er nog genoeg bloed door het lichaam wordt rondgepompt, is er niks aan de hand. Klinkt als een goeie uitdaging, maar ICTZ maakt het moeilijker door eerst nog een VR-Headset op je hoofd te zetten. Zo wordt het samen met de klunzige controls een echte uitdaging.
Deze challenge zal het gehele evenement (elf dagen) speelbaar zijn binnen de ICTZ Tent en iedereen is welkom om een poging te komen wagen. Voor de drie beste chirurgen liggen er mooie prijzen klaar.