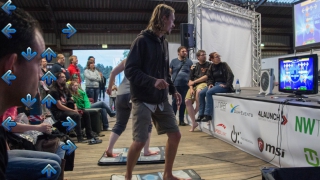 | | |
| --- | --- |
| Wanneer? | Wed 01 Aug 13:00 |
| Toernooiformaat? | 1v1 |
| Waar? | Stage Area |
This competition / activity does not require subscription. Gather at the specified location at the specified time!
Wil jij ook graag net zoals onze CampZone-toppers foutloos over de dansmat heen stampen, maar struikel je al over je eigen voeten tijdens het boodschappen doen? De Dance Dance Revolution/ Stepmania competitie kan voor de oningewijde bezoekers soms intimiderend overkomen, maar dit jaar zorgen wij dat de drempel net iets lager komt te liggen. Deze editie organiseren wij namelijk een DDR/Stepmania workshop, zodat iedereen die wil mee kan doen aan de competitie, ongeacht niveau of skills.
Iedereen is vrij om deel te nemen aan deze workshop, ook de ervaren dansers. Wie weet leer je nog iets waar je versteld van zal staan dat je het nog niet wist. Gedurende de middag is er plek in de Stage Area om aan te schuiven, waar wij jullie zullen klaarstomen voor de grote competitie later op de avond.