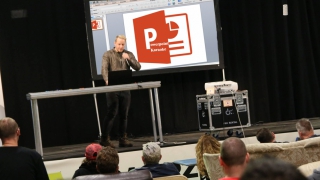 | | |
| --- | --- |
| Wanneer? | Mon 30 Jul 19:15 |
| Toernooiformaat? | 1v1 |
| Waar? | Stage Area |
This competition / activity does not require subscription. Gather at the specified location at the specified time!
Al twee jaar een feit op CampZone, de hilarische PowerPoint Karaoke trekt met succes al twee edities een volle zaal. Wij hebben al heel wat ongeloofwaardige presentaties voorbij zien komen waar er een heel boekwerk aan onzinfeitjes uit de interne bedenkselhoed werd getoverd. De PowerPoints beginnen zich alweer snel op te stapelen, dus verwacht ook dit jaar weer avond vol met plezante presentaties. Laat zien dat jij beschikt over een goeie portie creativiteit, of op z'n minst een talent voor onzin uitkramen, op ons podium tijdens de PowerPoint Karaoke!
De PowerPoint Karaoke test je improvisatie kunsten en kennis over nutteloze feiten tot het uiterste. Neem je plek in op het podium waar jij mag gaan presenteren! De twist hier is dat je van tevoren niet weet wat je onderwerp zal zijn. Van ons krijg je een willekeurige PowerPoint presentatie voor je die wij ergens in de diepste krochten van het internet hebben gevonden. Aan jou de taak om over het onderwerp een samenhangende presentatie te geven. Hoe je dit invult is volledig aan jou! Zingen, uitbeelden, maak het serieus of vertel de grootste onzin die je maar kan bedenken, de kans is groot dat wij net zoveel van het onderwerp af weten als jij.
De leukste/grappigste/beste presentaties krijgen voor hun zieke improvisatieskills mooie prijzen om mee naar huis te nemen. Wil je meedoen, dan hoef je alleen maar aanwezig te zijn in de zaal, wij kiezen op basis van tijd deelnemers uit het publiek uit die hun five minutes of fame mogen beleven op het podium. Voorbereiden is niet nodig (en onmogelijk) dus veel geluk!