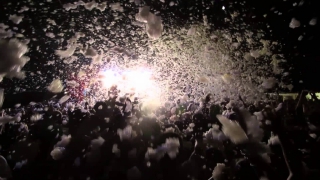 | | |
| --- | --- |
| Wanneer? | Fri 03 Aug 21:30 |
| Toernooiformaat? | Team vs Team |
| Waar? | Activity Tent |
This competition / activity does not require subscription. Gather at the specified location at the specified time!
Een goed feestje is altijd welkom, en zeker op CampZone zijn wij groot fan van geweldige feestjes. Ook deze editie is er al flink wat te feesten geweest met de ICTZeroes Party, veldbarbecues en jubileumfeesten. Je zou bijna denken dat het feest bijna voorbij is, maar wij zeggen daar keihard "NEE" op en gaan gewoon vrolijk door met vanavond een superawesometoffe Schuimparty!
De schuimparty zal rond 21:30 vanavond (vrijdag 3-8-2018) langzaam op gang komen rondom de activiteitentent, en ook jij mag gewoon gezellig mee komen hossen, glibberen en schuren op de maat van de muziek, welke verzorgd zal worden door onze enige echt DJ Jur. Ook zijn de mensen van Gamecardsdirect aanwezig om de hele avond leuke spelletjes met de bezoekers te gaan doen, natuurlijk met de Gamecardsdirect Biertap ter ondersteuning. Want iedereen weet dat spelletjes veel leuker zijn onder het genot van een lekker fris biertje.
Kom dus vanavond naar de activiteitentent (vanaf ongeveer 21:30) voor een drankje, een spelletje, een muziekje en heel, heel, HEEL VEEL SCHUYMMMM!