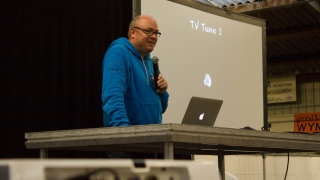 | | |
| --- | --- |
| Wanneer? | Mon 30 Jul 20:30 |
| Toernooiformaat? | Team vs Team |
| Waar? | Stage Area |
This competition / activity does not require subscription. Gather at the specified location at the specified time!
Trivia, nostalgie en intrige! Spendeer jij elke vrije minuut starend naar de kijkbuis en gaan al je spaarcenten direct richting Netflix-abonnementen? Dan maak jij grote kans om nog grotere prijzen te winnen bij onze breinbrekende TV Tune competitie! Quizmaster Jur legt jullie het vuur aan de schenen met een reeks video- en audiofragmenten die jullie tv-kennis van de afgelopen jaren op de proef zal stellen. Houd je ogen goed open en de oren gespitst, want je weet nooit wat voor diabolische vragen onze quizmaster dit jaar heeft samengesteld. Vragen als "Hoeveel sproeten heeft Bassie zonder schmink" of "Welk kentekennnummer had de derde auto links van achter in de hoek rechts achterstevoren" zijn enkele van de makkelijkste die je voor je zal krijgen.
Is dit jouw moment om in de spotlights te staan? Zorg dan wel dat je een buddy hebt die even veel af weet van alle affaires en plottwists in GTST als jij. Vorm het sterkste duo en laat iedereen weten wie de meest briljante tv-kijkers ooit zijn. Je kennis wordt natuurlijk beloond met hele mooie prijzen!